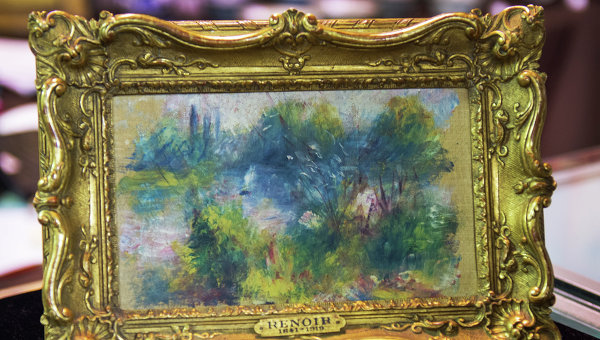 A federal judge will seek to unravel an art mystery and determine the rightful owner of a napkin-sized painting by French impressionist Pierre-Auguste Renoir that a Virginia woman says she bought at a flea market for $7.

The ownership is in dispute after documents were uncovered showing a Baltimore museum reported the painting stolen more than 60 years ago.

The painting has been seized by the FBI, and the federal government filed an action last month in U.S. District Court in Alexandria asking a judge to determine who should keep the painting.

Among the contenders is a Lovettsville woman, Marcia "Martha" Fuqua, who has told the FBI that she bought the painting at a West Virginia flea market in late 2009 for $7 and stored it in a plastic trash bag for two years before having it authenticated as a genuine Renoir. …

The appraiser says the Renoir's value is about $22,000, much less than the auction house estimated, because Renoir's paintings have fallen out of favor with some art collectors who consider them old fashioned and because questions about the painting's ownership and possible theft diminish its value to collectors. …

More: FoxNews

The Washington Post reported that Fuqua's 84-year-old mother, who operated an art school for decades in Fairfax County under the name Marcia Fouquet, is an artist who specialized in reproducing paintings from Renoir and other masters. The Post said Fouquet had artistic links to Baltimore in the 1950s, when the painting was stolen

More: Em247

… U.S. District Judge Leonie Brinkema did not pass judgment of the truthfulness of Fuqua's story. The judge said only that because the museum had shown the painting was stolen, it didn't matter how Fuqua acquired it — she could not legally gain possession of stolen property even if she acted in good faith. …

The auction company had expected to fetch at least $75,000, but the auction was canceled when the Baltimore Museum of Art came forward with long-forgotten records showing the painting had been stolen in 1951.

As it turned out, Fuqua's mother, who used the name Marcia Fouquet, was an artist who specialized in reproducing paintings from Renoir and other masters, and who had extensive links to Baltimore's art community in the 1950s.

More: SFNM

… [senior painting conservator Mary Sebera] collected powdered fibers that fell from a tiny, slightly frayed area of the canvas and examined them under a polarized-light microscope. She determined that the canvas indeed is linen, as the museum's records claim. … "It was a fabric that was commonly used for painting in the 19th century. But the fabric has an unusual weave. … It's tempting to speculate that the decorative pattern embellished household linens on public display, such as a bedspread, tablecloth … or possibly, a napkin.

More: BaltSun
Leave a comment if you know any more of the story. It's interesting. Also, if you see a painting with a frame that says RENOIR on it at a flea market, just walk on by. You will eventually have to give it up and you'll be out $7.